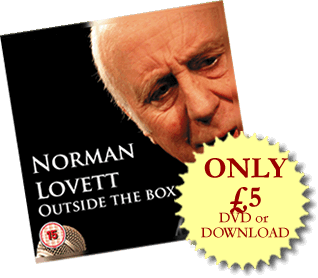 Outside The Box
OUTSIDE THE BOX IS NOW AVAILABLE FOR ONLY £5 ON EITHER DVD OR DOWNLOAD.
Norman's second DVD, "Outside The Box" was recorded by those Welsh wonders at GoFasterStripe.
It was recorded in September 2011, just after Norman finished a run in Edinburgh, so he's primed and red hot – not that you'd notice of course.
Norman's style of laid back surrealist whimsy masks the fact that he was "on fire" that night.
Why not see for yourself? There's a clip here, and here (or on the video page).
Oh – and extras you say?
Well, there's a late night, after gig chat with Arnold Brown, who we happened to record the same night.
The pair reveal just what it's like to be a couple of old fellas doing comedy.
So, what are you waiting for? Buy it exclusively at GoFasterStripe, here.